Common Sense Financial Advice for Believers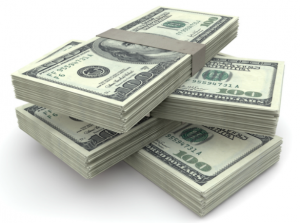 It's no secret that many people wrestle with their finances. Even Christians go through financial struggles. We are not exempt from financial trials just because we're believers. Keep reading for common sense financial advice for believers!
If you were to ask people what their number 1 struggle is in their lives, most would answer that finances are their biggest challenge. It doesn't matter who you are, where you're from or what kind of job you have. Finances, and the proper management of them, can be a truly daunting task in today's world of high pressure and slick marketing.
So how do we get a handle on our finances and take charge of them, instead of them holding us hostage every day of our lives?
Well, there's no hard and fast answer that's a one-size-fits-all solution for everyone. But there are some very good practices that we can all put into place that will go a long way toward fixing the vast majority of our money woes.
So let's talk about them!
First and foremost, one of the biggest areas where we see people dropping the ball is in their giving. Most of the time when people are struggling financially, the biggest common denominator is the fact that they're not giving. And when we say "giving", we mean tithing. Most of these people are not paying their tithes on a regular basis, or at all.
Why is this so important? Because God has told us that if we will tithe, He will rebuke the devourer for our sake.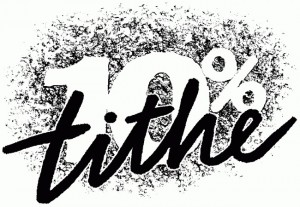 Malachi 3:10-11 (NKJV) 10 Bring all the tithes into the storehouse, That there may be food in My house, And try Me now in this," Says the Lord of hosts, "If I will not open for you the windows of heaven And pour out for you such blessing That there will not be room enough to receive it. 11 "And I will rebuke the devourer for your sakes, So that he will not destroy the fruit of your ground, Nor shall the vine fail to bear fruit for you in the field," Says the Lord of hosts;
So what's that all about and how does it cause problems for people when they're not tithing.
Let's take a look at this and see what it's all about. First off, by tithing, we're telling God that He comes first in our finances. We're taking a stand and declaring that we trust Him enough to actually give part of our hard-earned money away, to support His work and further His kingdom.
Second, by giving, we're getting in the face of the enemy and telling him that he can't intimidate us or cause us to shrink back in fear when it comes to our money. We know Who we belong to and what he says to us will never cause us to doubt or fear.
And by tithing, we're invoking a spiritual financial principle, a God-made principle, and setting it into motion. This principle says that by giving, we will also receive. It's called the law of reciprocity. What you give, you will also get.
But by tithing, we also invoke a kind of protection over our finances. Notice in the verses about where God said He would rebuke the devourer for our sake. That's right, He will protect our finances when we trust Him enough with our money to tithe.
And another thing. This isn't so much of a spiritual principle, so much as it is a common sense fact. If we're dedicated to giving 10% of our money back to God, and we understand that our money is not really our own, we're less likely to spend it foolishly. First, because we have less "play money" to spend. And second because we feel accountable to God for what we do with the money He has entrusted us with.
So that's the tithing aspect of the equation. Now let's talk about some other things that cause many of us problems.
Foolish Spending.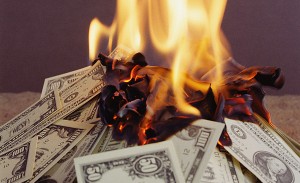 Yes, foolish spending is a MAJOR problem, even in the lives of believers. In fact, it is probably second in line, right behind not tithing. But what exactly is foolish spending? Let's take a look.
A loose definition of foolish spending would be something like this: Money spent impulsively on things that were not planned for or we don't need. Spending money to buy things we can't afford. Money spent without counting the cost before spending it.
Luke 14:28 (NKJV) 28 For which of you, intending to build a tower, does not sit down first and count the cost, whether he has enough to finish it…
Counting the cost isn't a spiritual principle. It's just good old common sense. You see, being good stewards with our money isn't a supernatural thing. It's not a super-spiritual thing. It's based on common sense. God has given all of us a brain to reason and understand things. And He wants us to use it!
We shouldn't over-spiritualize simple things, such as whether we should spend money we don't have or not. Buying something we can't afford while racking up debt isn't a good thing. And we should never expect God to pay for our foolishness by boldly proclaiming that we're walking in faith, as we pray and ask God to foot the bill for the things we buy that we can't afford.
We may think we're walking in faith. But before long we will be walking in large amounts of debt if we're not careful. And debt is never a good thing. Debt is bondage. Debt is slavery. But that's a topic for another day. Let's stick to the topic at hand, for now.
So what are some of the things that we could classify as foolish spending?
Well, let's list some of them. This list will not be exhaustive, nor will it be perfect. What some people see as foolish spending might not seem so foolish to others. But be careful before judging and brushing any of these off as extreme. You'll be amazed at how much money can be spent in a year's time on some of these things.
So here we go with our list, in no particular order.
Cigarettes
Coffee
Alcohol
Unnecessary Gadgets
Eating out
Movies and other entertainment
Junk food
Cable TV
Unnecessary use of lights in our homes
Buying brand names when generic will do just as well
Hobbies
Impulse buys
So there are a few, in their most basic forms. But from that list we could pull dozens more. For example, coffee. We're not referring to coffee itself, although it's really not good for us. But if you look at the habit that so many people have of running to the local coffee shop every morning, instead of making their own coffee, you can see pretty quickly how much money can be spent on something like this over the course of a year.
Let's do some math.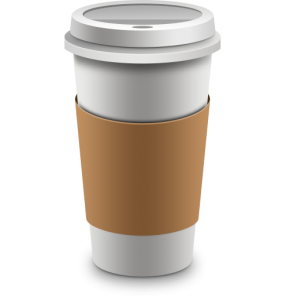 1 coffee per day from the local coffee shop, on your way to work, costs you an estimated $3. Now we know that some people might spend more or less than this, but let's use the $3 for demonstration purposes.
You spend $3 per day, 5 days per week. That's $15 per week, at the very least. Now let's look at that on a bigger scale. 4 weeks of that adds up to $60 in a month. And 12 of those months adds up to $720!
Hmm.. that's a lot of money spent on coffee. And remember that $3 is just an average estimate. Some people are spending more than $3 per cup. But you get the point.
So what could you have done with that $720 if you didn't buy coffee? Or let's say that maybe you start making your coffee yourself, before you leave home each morning. So now it costs you only $1 per cup. It's much likely very much less than $1. But lets use that $1 for example's sake.
Now you've spent $20 per month, instead of $60! That's $240 per year instead of $720!
Congratulations! You just saved yourself $480! That's a big chunk of change, no matter how you look at it. Now imagine how much money you could save if you take this principle and apply it to every aspect of your finances. The possibilities are pretty endless!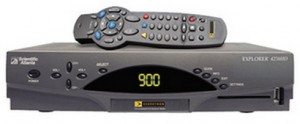 Let's look at another big one that many families spend a lot of money on. Entertainment. But for the sake of keeping this brief, let's look at cable TV.
Most homes these days have big TVs and cable TV with hundreds of channels. This is an area where people spend a LOT of money each month. The average household spends around $150 per month on TV alone, never mind what's spent on other forms of entertainment.
Did you know that a $150 monthly cable bill will cost you $1800 per year? Yep! $1800. Now that's a huge amount of money! You get 400 or more channels, most of which are worthless or of little interest to you. But you pay $1800 for it, nonetheless.
And, sadly, much of what gets piped in to your home is laden with content that's not even close to suitable for you or your children. But the bill gets paid every month anyway. And $1800 slips away every year. This is akin to flushing money down your toilet.
Maybe you're asking how you can save money and still have some kind of entertainment in your home. There are many options these days. Online streaming has become the best way to get programming that you want at reasonable prices.
You can stream programs on your computer, tablet or smartphone. And with devices like Roku or similar products, you can stream just about anything to your TV now, too. Chromecast and other similar devices are also an option. These devices allow you to stream content from your computer onto your TV.
The options are quite endless and the money you can save is incredible when compared to cable TV prices. A Roku player, for example costs around $50. With that device and a Netflix account, you can stream hundreds and hundreds of movies and TV shows to your TV for pennies on the dollar compared to cable TV.
If you're concerned about the content coming into your home, which we all should be, there are also Christian movie services that offer subscription-based movie streaming for about $8 per month. Their selection isn't as broad as Netflix or Amazon, but they also don't offer the immoral stuff that's so prevalent with the other services.
So take the leap. Cut the cable and save yourself upwards of $1500 per year. That's a healthy savings that can be put toward many other things, like paying off debt, opening and building a savings account, auto repairs, or home maintenance and repairs. Or it could even be used to grow God's kingdom or help the needy.
Let God direct you when it comes to where to put the money that you'll be saving when you start cutting costs.
And if you go down the list of items above, I promise that you'll find places where money is being wasted every day. And if you add it up, it'll blow your mind when you see how much it's costing you each year. Seriously.
Now, we could go on about this for quite a while. But that isn't our goal. Our goal is to get everyone to look at what we spend, and why we spend it. And then to do something to change that!
Nobody can change it for us. We have to do it. We have to take charge of our finances and stop the bleeding before it's too late and we bleed to death financially.
And most important of all, we need to make sure we're being good stewards with the money that God has given us charge over.
If you've enjoyed this post, please share it with others and comment below. And if you'd like to see more articles like this one, comment and let us know! We'd love to hear your feedback 🙂
Pastor Curt & Pastor Ellie